Urban Fox in Horseguards Parade during the day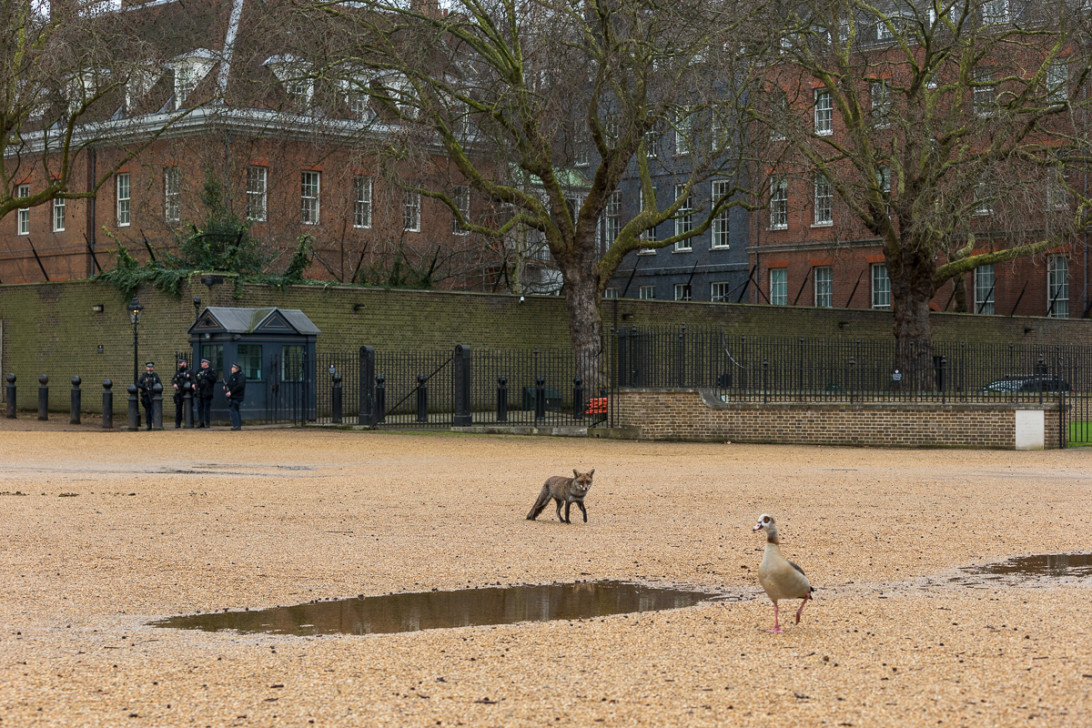 Today, I was waiting to meet some of the photographers that are part of the Cafe Art Photography Mentoring group which I co-ordinate for the Royal Photographic Society and all of a sudden an urban fox appeared with a dead goose in its mouth.  I have seen foxes on the street in London before but only after dark.  This particular fox appeared to be more confident and had no problem walking across Horseguards Parade with its kill.  If there weren't any armed police guarding the rear entrance to 10 Downing Street then I think the fox may well have tried to get into the garden.  Having made its way along the side of the parade ground, the fox disappears into some bushes against the buildings in the corner.
A short while later, the fox reappeared and strolled across the middle of the parade ground back towards St. James Park.  The fox briefly stalked another Canada goose but didn't seem to be able to get that close to this particular goose.  Given that is is a fairly unusual site, lots of people were trying to get pictures and video on the phones but this fox didn't seem to be phased by the attention that its was attaching.  Having successfully crossed the road back into St. James Park, the fox wandered around looking at the various species of bird in the park before jumping over one of the iron fences and disappearing into the plants and bushes.
I think that it is amazing what you can see and experience in London if you keep your eyes open.  London has a large population of urban wildlife especially in their parks, but normally it is birds and squirrels that you see.
If you would like to see more images of this urban fox images then they are available on Alamy News.
---