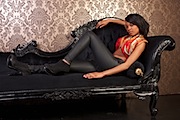 Last weekend, I tried a new studio out in East London called Murder Miles Studio which is run by Amber and Adrian. They were both extremely helpful from the booking right through to the shoot on the day making sure that I had everything.
The studio is amazing with lots of different shooting options arranged into a number of different chambers which can be booked independently. Each chamber is well decorated and equipped for different themed shoots. First, I used the chamber with office and lounge settings followed by one of the other chambers with bar, diner and boudoir.
The other main chamber (which I didn't use) is geared towards fetish and alternative shoots and extremely well kitted out with dungeon, prison cell and medical settings.
In conclusion, Amber and Adrain have created a fantastic space to shoot a very wide varieties of styles and all very reasonably priced to hire – great job!