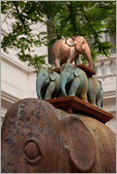 The quest for the Elephants continued on Saturday but now I need to plan my hunting more carefully to ensure that I am finding previously unseen/un-photographed elephants.  With this in mind, I decided to head off to the last large concentration of elephants … Covent Garden and its surrounding area.
Along my way, I also managed to shoot the odd elephant that had got away (so to speak) from my previous trips because I couldn't find them.  The other added bonus was that the Heathrow elephant, "The Happy End of Nature", is still waiting at Paddington appropriately on the Heathrow Express platform – may be it hasn't got a ticket or is too big to get on the train?
"Ferrous" (left) was my favourite one of the day and can be found outside the Royal Opera House on Bow Street.  I think that it is the stack of smaller elephants on its back and the colours of the weathering metal, presumably iron, that delighted me.
I have posted all my new elephant photographs in my Elephant Parade gallery and to make it easier for everyone to see the latest elephants I have reordered the gallery so that they appear first.