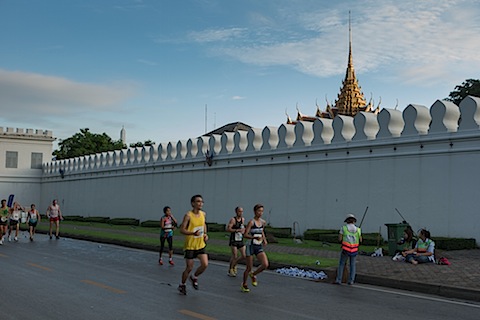 I am back in Bangkok before starting out on the Steve Davey's Laos & Vietnam photo tour next Wednesday. This time I am staying in the older part of Bangkok where all the backpackers seem to be and not far from the Grand Palace. Having flown in yesterday, it was an early start today around sunrise at 6am and I wasn't sure what I would photograph.
As I wandered round the local area, it was much quieter than the night before but a few folks had seemed to have partied through the night. So I turned towards the Grand Palace and stumbled upon a few runners … and then more runners which given that it must already have been 30 degrees centigrade seemed mad to me. Eventually, there was a sign … ah it was the Bangkok Marathon so I decided to walk along the route up to the Grand Palace.
It wasn't a surprise that this marathon is held very early in the morning because I doubt anyone would survive the heat later in the day. I was hot just walking along so congratulations to all those that completed the course which finished in front of the Grand Palace … a spectacular backdrop for the event.