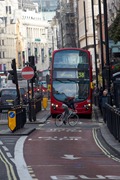 Recently, I have doing some street photography for the London Cycling Campaign which is a charity that promotes safe cycling in London.
Five of my photographs have been published in the February/March edition of their magazine, "London Cyclist".  They are part of an article by David Dansky when he got a different perspective on city cycling during a training course with a group of London's red bus drivers.  The photography (right) was used as a full page spread.
In this digital age, there is sometime very pleasing and satisfying seeing your photographs in print especially when someone else is publishing them.  The other good thing is it means that more people will get to see them.
I am planning to do more work for the London Cycling Campaign over the coming months.